Staff Accountant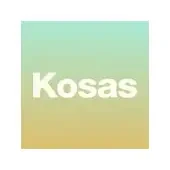 Kosas
Accounting & Finance
Los Angeles Metropolitan Area, CA, USA
Posted on Saturday, September 9, 2023
The Future of Beauty is here and it's thrilling. We're looking for innovative thinkers and rebellious spirits to join our team.
Kosas is a next-level clean beauty brand that's about revealing, expressing, and feeling comfy in your skin. It's good makeup (not no makeup) that's quick, easy, can't mess it up. And it's clinically proven to actually make your skin better, even when it's bare. So you can look like your favorite self every single day. Our brand is currently distributed in Sephora, Mecca, and Credo, as well as on our branded website, kosas.com. Our products are market share leaders, our growth has been explosive, and we have big plans ahead!
We're looking for an Accounting Associate to join our team. The Accounting Associate is a key member of the accounting team with responsibilities that contribute to a timely and accurate month-end close as well as related accounting administrative duties with exciting opportunities to grow with Kosas.
How You'll Contribute
Process financial information for data entry into accounting system
Customer set-up and sales order entry and processing
Processing invoices, processing credit memos, accounts receivable collections, reseller permits, reconciliations of sales orders and invoices to shipments and documents.
Communications with customers on invoices and payment remittances
Accounts receivable reconciliation to customer statements, prepare and report aging and collections
Accounts payable processing cycle, including receiving, reviewing, coding and entering a bill and setting up for paying.
Accounts payable review process includes verifying accuracy, in compliance with contract terms and conditions, checking for accurate price or quantity variances
Accounts payable reconciliation to vendor statements, prepare and report aging and payment
Assist in monthly adjusting journal entries, enter basic accruals and deferrals
Preparation, compilation, reconciliation and of sales tax/VAT/GST information
Record and reconcile assigned balance sheet accounts against source documents
General administrative duties not limited to the processing of customer applications, sales tax filings, insurance filings and maintenance of accounting deadlines and calendars
Accurate filing and document organization of accounting documents
Ad hoc projects and contributes to team by accomplishing tasks and projects as needed
Who You Are
Self-starter who thrives in a diverse, dynamic, entrepreneurial, fast-paced, and agile culture.
Highly organized with great attention to detail, process oriented
Ability to meet deadlines
Frequent communication skills
Excellent relationship building and interpersonal skills.
A friendly-team player with a positive attitude, and the ability to take and give feedback (no egos).
What You'll Bring
1-3 years' experience in Accounting and Finance in accounting or related field
Experience with ERP systems, Netsuite, Excel and Google sheets experience
What We Offer
Company paid medical benefits
Flexible spending account options
401k with company contribution
Flexible paid vacation
40% off Kosas products
The range of base salary for this full-time position is between $64,000 - $74,000, not including discretionary bonus and benefits. Please note that the base salary range is a guideline, and individual total compensation will vary based on factors such as experience, skillset, education, and work location.
Kosas is committed to creating an inclusive environment for all employees and proud to provide equal employment opportunities to all employees and applicants for employment and prohibits discrimination and harassment of any type with regards to race, religion, age, sex, national origin, disability status, genetics, protected veteran status, sexual orientation, gender identity, or any other characteristic protected by federal, state, or local laws.
This policy applies to all terms and conditions of employment, including recruiting, hiring, placement, promotion, termination, layoff, recall, transfer, leaves of absence, compensation, and training.